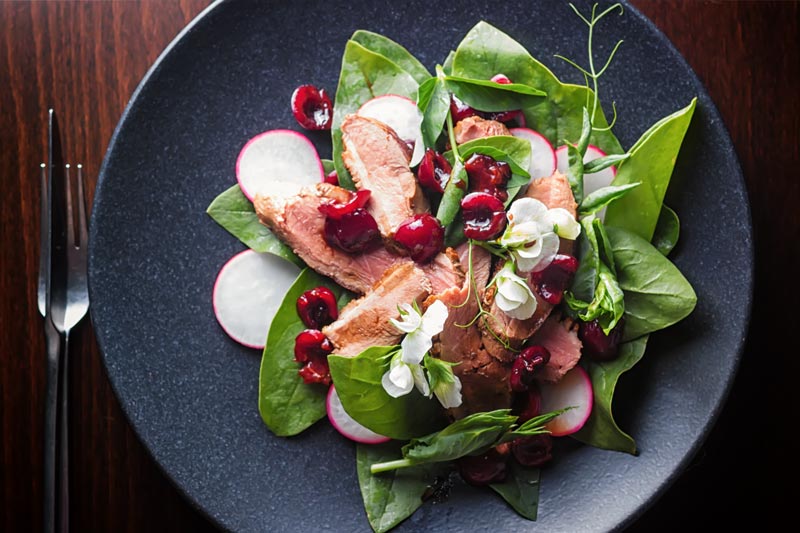 This recipe may need you to have duck breast from Canards du lac Brome. And you may also need to adjust the setting of the cooking time for the duck at least 3 to 4 minutes. You can replace the Brazil nuts with almonds or pumpkin skins. And if you don't have mint, use basil. You can also replace the tomatoes with cucumber or carrot if you don't like tomatoes. Duck meat is great with sweet sauces like the caramelized onion and cherries. Here is a fully fledged recipe for duck salad with balsamic cherries below.
Ingredients needed
1/2 teaspoon coconut oil
2 medium duck breasts with skin on
1/2 teaspoon sea salt
large handful of cherries
1 medium red onion, halved and sliced thinly
10–12 cherry tomatoes, halved
1 tablespoon aged balsamic vinegar
5 Brazil nuts, chopped
2–3 cups loose washed salad leaves
12 fresh mint leaves
For the dressing
1 tablespoon lemon juice
1/2 tablespoon balsamic vinegar
2 1/2 tablespoons olive oil
generous pinch sea salt
1/2 teaspoon Dijon or yellow mustard
Method
Wash and dry the duck breast and bring it to the room temperature. Keep it out of the fridge for at least 15 minutes. Then season the duck breast with sea salt on every side.
Put a large frying pan on medium heat and add coconut oil. While the pan is still heating, put the duck breasts, skin it side downwards for removing the fat. For removing the fat and to get the crispy skin, cook the duck skin side down over medium heat for not burning the skin and let the fat melt off gradually. Cook the skin side down for at least 15 minutes. The duck fat will melt into the frying pan and cook the onions and cherries in it.
Keep the cherries ready while the duck is cooking. Eliminate the tails and keep the cherries on the cutting board. Slice the onions as well.
Add it to the pan after 10 minutes of duck being cooked and arrange it around the breast. Put some sea salt and cook the duck for 3 to 4 minutes. Stir the onion and cherry.
Move the duck breast to the side of the pan and turn on the sides. Stir the onion and cherry in the balsamic vinegar and stir until caramelized.
Keep the duck on the cutting board and let it cool for 2 to 3 minutes. The flesh must be juicy, tender and but pink on the inside.
Organize the salad on a big platter. Slice the duck and spread it on the top. Garnish with cherry tomatoes, mint leaves and Brazil nuts.